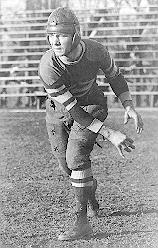 Alvin Nugent "Bo" McMillin
January 12, 1895 - March 31, 1952
McMillin, football player and coach, was born in Prairie Hill, Tex., the son of Reuben Thomas and Matilda Riley McMillin. At an early age he was dubbed "Bo" by a cousin, and he carried this nickname throughout his life. His father, a worker in a meat-packing firm, moved the family to Fort Worth, Tex., where he died when McMillin was sixteen. Family circumstances and his father's death delayed his education while he worked to help support the family. Meanwhile, he developed a reputation as a tough youngster who planned to be a prizefighter, but the coach at North Forth Worth High School, Robert L. ("Chief") Meyers, channeled the seventeen-year-old freshman's interest into football, there-by changing his life. McMillin became a star player, and in 1916, when Meyers returned to his alma mater, Centre College in Danville, Ky., he took with him McMillin and several other players from Fort Worth. McMillin's matriculation at Centre was delayed for a year while he earned the necessary credits at Somerset (Ky.) High School.
Centre, a Presbyterian men's college, had slightly more than 200 students, yet its 1917 team, with McMillin as quarterback, lost only one game. Because the war forced a shortened schedule in 1918, the players received another year of eligibility. In 1919 Centre came to national prominence in football with a 9-0 record and the naming of McMillin and two teammates--James "Red" Weaver and James M. "Red" Roberts--to Walter Camp's All-American team. As a result, in 1920 Harvard University scheduled a game with the "Praying Colonels," as the Centre team was popularly known because of its pregame prayers in the locker room. Although Harvard won, Centre impressed sportswriters by holding its heavier opponent throughout the first half. McMillin emerged from this game a folk hero, the champion of the common man against the Ivy League elite. He announced that Centre would return to Cambridge the next year and win.
Thus the stage was set on Oct. 29, 1921, for what the New York Times still hailed a half-century later as "football's upset of the century." Harvard had not been defeated since 1916. Before nearly 50,000 fans, on a muddy field in Harvard Stadium, the first half was scoreless. In the third quarter McMillin ran thirty-two yards for the game's only score. This victory fixed the name of Bo McMillin in American football history. In 1921 Ralph D. Paine published First Down, Kentucky, a biographical novel based on McMillin's rise to fame.
A devout Irish Catholic who did not drink, smoke, or swear, McMillin nevertheless was reputed to have supported himself in college by rolling dice and betting on Centre to win, often by large scores. Although he failed to pass a single course in his senior year, by the end of the football season he had signed a contract to coach at Centenary College in Shreveport, La., for a salary high enough to shock the major universities of the South. In the same year he married his Texas sweetheart, Maria Miers.
In his three years at Centenary, McMillin brought national attention to the college, achieving a 25-3 record. His contract was not renewed, however, because the regional accrediting association objected to the college's paying a coach more than the president and faculty members. McMillin accepted another highly paid coaching position at Geneva College in Beaver Falls, Pa., and took with him four of his best players, including Robert "Cal" Hubbard, who later achieved fame as a professional football player and baseball umpire. During the 1925-1927 seasons at Geneva , McMillin again lifted a small college to football prominence, including a victory over Harvard in 1926.
From 1928 through 1933 McMillin coached at Kansas State College in Manhattan, Kan. (now Kansas State University). After being a widower with a young daughter for four years, in 1930 he married Kathryn Gillihan; they had four children. Although at Kansas State McMillin barely managed a winning record while playing a difficult schedule, he reputation grew as a dynamic coach who could inspire players. In 1934 he accepted an offer from Indiana University.
In his fourteen seasons at Indiana, McMillin's teams won sixty-three games, lost forty-eight, and tied eleven, a gratifying achievement for a school that had not enjoyed a winning season since 1920. Repeated victories over arch-rival Purdue and, in 1945, Indiana's first conference championship brought McMillin a lifetime contract from the university and repeated honors from the coaching profession. Twice (1938 and 1946) he coached the collegiate team to victory over the professional champions in the annual All-Star charity game in Chicago. His popularity as a speaker matched his success as a coach and provided him a large additional income. In 1937 Centre awarded him an A.B. degree, for which he had qualified by taking university courses and by receiving academic credit for his World War I training.
In 1948 the Detroit Lions attracted McMillin into the National Football League with a lucrative contract as coach and general manager. From 1948 to 1950 he built the Lion team that won three professional championships in the next four years. Nevertheless, personal difficulties with some of the owners and the dislike of his coaching methods by some players led to his dismissal at the end of the 1950 season. He was quickly signed as head coach of the Philadelphia Eagles but had to retire in October 1951, when he underwent an operation for cancer. He returned to Bloomington, Ind., where he died.
---
Source: Charles W. Akers. Dictionary of American Biography. 5th Suppl. New York, 1977