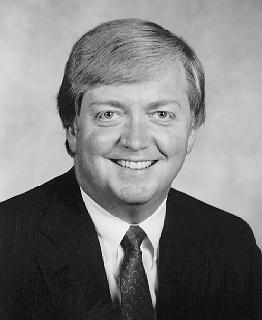 Michael F. Adams
Centre College President (1988-1997)
Michael F. Adams was named Centre's 19th president in December 1988. A 1970 magna cum laude graduate of Lipscomb College, Dr. Adams holds both the M.A. and Ph.D. in communications with an interdisciplinary emphasis in educational administration from Ohio State University. At Ohio State, he was recognized as a University Fellow, the graduate school's highest academic honor. In the summer of 1983, Dr. Adams did post-doctoral work in comparative educational systems at Oxford University in England.
From 1980-1982, Dr. Adams served as a senior advisor to Tennessee Governor Lamar Alexander. Prior to that, he worked for five years (1974-1979) for U.S. Senate minority leader Howard Baker of Tennessee, serving the last three years as Senator Baker's chief of staff. Before assuming the Centre presidency, Dr. Adams spent seven years (1982-1989) as vice-president for university affairs and professor of political communication at Pepperdine University in Malibu, California.
Dr. Adams strengthened Centre's commitment to excellence in the liberal arts. Two residential foreign studies programs in London, England and Strasbourg, France were established; new degree programs in anthropology and sociology, computer science, and the classics approved; a long-range strategic planning process initiated; and a $60 million major campaign announced, the most ambitious fund-raising campaign in the college's history. Dr. Adams also continued to improve Centre's physical facilities: Old Centre was extensively and beautifully restored; the former Carnegie Library renovated to include Student Life offices, the Carnegie Club, a dining facility for faculty and staff, and the Davidson Room; the bookstore moved and substantially enlarged; a 19th-century home (renamed the Horky House) converted into space for the office of admission; a 19th-century warehouse remodeled for student activities; the construction of new chapter houses for Centre's fraternities and sororities; and major renovations of the college's older residence halls.
Dr. Adams is a nationally recognized speaker and consultant. He has been a keynote speaker at the Aspen Institute summer series on strategic planning for college and university presidents. He is frequently consulted on national educational issues and has served as a trustee for the Council of Advancement and Support of Education representing national campus CEOs, Vice Chair of Division III on the NCAA Presidents Commission, member of the Board of the National Association of Independent Colleges and Universities (NAICU), 1995 chair of the NAICU, and a member of the Board of Directors of the American Council on Education.
Regionally, Dr. Adams served on the Board of the Kentucky Center for Public issues and was co-chair of its first issues conference. He participated in Leadership Kentucky, represented Kentucky higher education as a member of the Executive Council of the Southern Association of Colleges and Schools, and was the 1995 president of the Heart of Kentucky United Way.
Although his formal education is in political communication, Dr. Adams' interests are diverse. He has published articles on subjects as wide-ranging as religion, business, government, and the marketing of higher education. He authored the nationally recognized section on "Major Donor Fund Raising" in the work Educational Fund Raising: Principles and Practice published jointly by the American Council on Education and the Council for the Advancement and Support of Education.
In the Summer of 1997, Dr. Adams accepted the presidency of the University of Georgia.