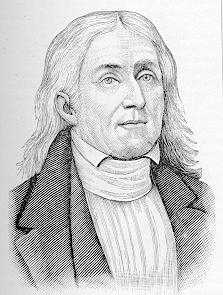 Gideon Blackburn
Centre College President (1827-1830)
Gideon Blackburn was born on August 27, 1772, in Augusta County, Virginia. Orphaned when he was eleven, Blackburn was able, through hard work, to gain an education. By day he studied for the ministry at the Martin Academy under Dr. Robert Henderson, and at night worked in a local saw mill. Later he worked for several months as a surveyor, being paid fourteen horses. Selling them, and paying off his debts, Blackburn used the remaining money to pay his way through Dickinson College. Blackburn moved to Washington County, Tennessee, in 1790, where he continued his studies for the ministry. In 1792 he was licensed to preach by the Abingdon Presbytery, and served as pastor to several churches in eastern Tennessee.
In 1804, after raising funds and gaining the approval of President Thomas Jefferson, Blackburn began missionary work among the Cherokees, and opening a school for Cherokee children. By 1810, however, the hardships of frontier living and the drain on his personal finances caused him to resign his mission. He moved to western Tennessee, serving as head of Harpeth Academy in Franklin and later Independent Academy. In 1814, Blackburn organized a Presbyterian church in Nashville, and in 1818 founded the first Presbyterian church in the Alabama Territory (Huntsville). Blackburn gained a reputation for his flamboyant sermons, once holding 1500 people enthralled as he preached for two hours outdoors in a rainstorm. In 1823 he accepted a pastorate in Louisville, and on August 1, 1827, was elected president of Centre College. He found the school in grave difficulties, but his fame and talent for gathering support served to raise funds and boost the stature of the young college. On October 26, 1830, Blackburn resigned the presidency, returning to preaching, and acting as an agent for the Kentucky State Temperance Society.
Because of his success as a money raiser, Blackburn was invited to Illinois in 1833, and given the task of raising funds for Illinois College. Later he was involved in raising an endowment for a school at Carlinville, Illinois. Blackburn died on August 23, 1838 before the school could be founded. The institution he planned for was not opened until 1857. Beginning as a primary school, it later became Blackburn Theological Seminary, and when the theological courses were discontinued, Blackburn College.
For additional information see