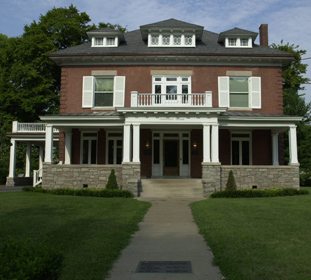 Chenault Alumni House
Date Built: 1904; renovated 1998
Named For: Carroll C. Chenault, Jr.
Current Use: Alumni offices
Originally built in 1904 as a private residence, the colonial revival house served as the Phi Delta Theta fraternity house from 1932 to 1962. It was purchased by the college in 1979 from Liddell and English Sullivan, classes of 1934 and 1936, and named the Carroll C. Chenault, Jr., Alumni House in 1982. Mr. Chenault, who died in 1973, was a 1920 graduate of Centre College. During his life he was president of a bank in Mt. Sterling, Ky., a farmer, and a partner in a furniture and hardware business. Mr. Chenault was also active in Centre's Alumni Association, serving as national president and director.