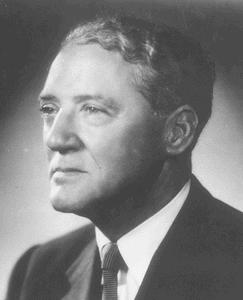 John Sherman Cooper
Centre College Class of 1922
John Sherman Cooper was born in Somerset, Ky., August 23, 1901, and attended the Somerset public schools and Centre College between 1918 and 1919, a member of the Class of 1922. While at Centre he became a member of the Beta Theta Pi fraternity, and played basketball and football, lettering in the latter. He graduated from Yale University in 1923, and attended Harvard University Law School from 1923 to 1925. He returned to Somerset to practice law, and in 1928 was elected to the Kentucky House of Representatives, where he served for two years. He was the Pulaski County Judge from 1930 to 1938, and in 1939 was a candidate for the Republican gubernatorial nomination. After practicing law in Somerset again for two years, he joined the U.S. Army in 1942, where he served with General George Patton's Third Army in Europe. In 1945, Cooper headed the reorganization of the German judicial system in Bavaria, and served as a legal advisor for repatriation of displaced persons in the Third Army zone. He was awarded the Bronze star Medal for services in World War II. In 1945, he became Circuit Judge for the 28th Kentucky Judicial District. In November 1946, he was elected to fill the unexpired senatorial term of A.B. Chandler until 1949. Following an unsuccessful attempt for reelection, Cooper returned to practicing law in Washington, D.C. In 1949, he was a delegate to the United Nations General Assembly, and served as an alternate delegate in 1950 and 1951. During this period he also served as served as adviser to the Secretary of State at the London and Brussels meetings of the Council of Ministers of the North Atlantic Treaty Organization. In 1952 he was elected as a Republican to the U.S. Senate to fill the vacancy caused by the death of Virgil Chapman, and served until 1955. He was an unsuccessful candidate for reelection in 1954. From 1955 to 1954, served as the U.S. Ambassador to India and Nepal. Cooper was elected as a Republican to the United States Senate in 1956 to fill the vacancy caused by the death of Alben W. Barkley, and was reelected in 1960 and 1966. He did not run for reelection in 1972. From 1963 to 1964, Cooper served as a member of the Warren Commission, and later as United States Ambassador to the German Democratic Republic from 1974 to 1976.
Senator Cooper was elected to the Centre College Board of Trustees in 1961, and became trustee emeritus in 1973. He received an honorary LL.D. degree from Centre in 1948, and was the 1972 Commencement speaker, where he was also awarded the first Isaac Shelby Award. In 1987 he was honored as an Distinguished Alumnus of the College.
Cooper resumed the practice of law in Washington, D.C. in 1976, and resided in Washington, D.C. and Somerset, until his death in Washington, D.C., February 21, 1991. Cooper is buried in Arlington National Cemetery.