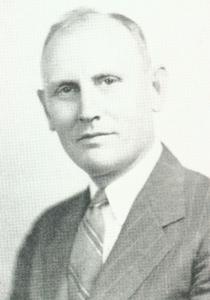 James H. Hewlett
James Howell Hewlett, Dean, Registrar, head of the English department and Acting President on three separate occasions was one of Centre's most respected figures - a scholar devoted to his profession, and a man with unshakable faith in the future of the small college.
Hewlett, born July 29, 1888 in Morgan County, Alabama, was educated at Franklin Academy in Columbus, Mississippi, and received his bachelor of arts degree at Birmingham Southern College. He went on to earn a masters degree from Vanderbilt in 1913, later attended Johns Hopkins University from 1926-1927, and received his doctorate in philosophy at the University of Chicago in 1931.
Beginning his career as professor and head of the English Department of Kentucky Wesleyan College at Winchester, Kentucky, he went on to a similar position at Olivet College in Michigan from 1917-1918, and then to a teaching position at Drury College in Springfield, Missouri from 1919-1920. He came to Centre as Professor of English in 1920.
Dean of Men from 1928-1932, and then associate dean of the school, Hewlett served as acting president from 1936-1938, 1942-1944, and 1946-1947. He taught summer sessions at Berea College, the University of Kentucky, and the University of Louisville from 1921-1928. Dr. Hewlett was a Democrat, and a member of Centenary Methodist Church in Danville.
Active in a number of organizations, Hewlett was chairman of the Commission on Colleges and Universities of Kentucky, Association of Colleges and Secondary Schools, 1943-1944; president of the Kentucky Registrars, 1944-1945; vice president of the Kentucky Association of Church-related Colleges, and the Modern Language Association of America; member of the American Association of University Professors, and the Filson (Louisville) and Anaconda (Danville) clubs.
Dr. Hewlett, stricken by a heart attack earlier in December at his office in Old Centre, later died of a second heart attack on December 27, 1948.
For additional information see