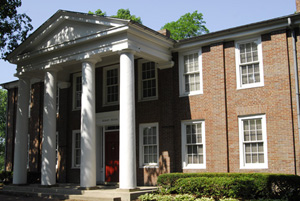 Horky House
Date Built: ca. 1842-1850; renovated 1992
Named For: John H. Horky, Class of 1932, and his wife Lorette
Architect: Robert Russel, Jr.
Current Use: offices of admission and student financial planning
Horky House, originally called the Russel-Thomas House, was built by Robert Russel, Jr., Danville's master architect who also built the College's first building, Old Centre. Jo Thomas, a famous transportation magnate and among several who owned the house, lived here from 1859-1888. The building is listed in the National Register of Historic Places.