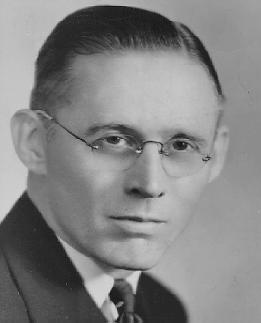 Robert L. McLeod
Centre College President (1938-1945)
Robert L. McLeod was born on January 28, 1901, in Cheraw, South Carolina. A graduate of Davidson College and the Presbyterian Theological Seminary in Louisville, McLeod also pursued studies at the University of Edinburgh, Scotland. He served pastorates in Mississippi and Florida before moving to New York City in 1936 to become secretary to the Board of National Missions of the Presbyterian Church. McLeod accepted the presidency of Centre College in 1938, and was inaugurated January 20, 1939.
McLeod took over an institution suffering from the effects of the Depression. The inability to improve faculty salaries and provide better funding for the library created accreditation problems with the Southern University Conference. McLeod convinced the conference to delay probation for one year to allow him time to correct the situation. As a mixed blessing, long time Centre supporter Guy E. Wiseman died the following spring, bequeathing to the college $750,000 in unrestricted funds. McLeod immediately used some of the money for faculty salaries and the library, while investing the remainder.
Soon the money had earned enough interest to permit some renovation and construction. A new facing was placed on the back of Old Centre, and ground was broken to the construction of the Wiseman Quadrangle; in 1941 Wiseman Hall and McReynolds Hall were both dedicated. McLeod initiated a $1.4 million campaign to improve and develop the campus, and was the first president to occupy Craik House, purchased by the college in 1937.
The outbreak of World War II brought significant changed to Centre. The exodus of young men from the college began not long after Pearl Harbor, and in 1942 McLeod himself applied for a leave of absence to become a chaplain in the U.S. Navy. Before leaving, however, he set in motion a movement to aid the war effort, which eventually resulted in the Army Air Corps' 20th College Training Detachment locating at Centre. The remaining male students were moved to the women's campus, and the college continued to operate.
While on leave of absence, McLeod offered his resignation to the Board of Trustees. They refused, asking him to find a temporary replacement. McLeod was able to convince Robert J. McMullen, a Centre alumni, to return to his alma mater. Thus, while McLeod was serving as chaplain aboard the aircraft carrier U.S.S. Antietam, McMullen was in Danville, both men serving as co-presidents. Both McLeod and McMullen submitted their resignations in November 1945. McLeod returned to the ministry, serving as pastor to churches in Missouri, Florida, Tennessee, and Louisiana.
For additional information see