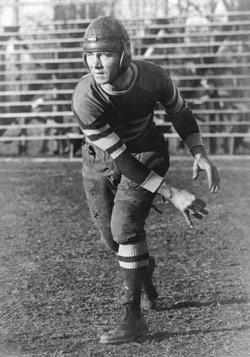 Alvin N. (Bo) McMillin
Alvin Nugent (Bo) McMillin, football player and coach, was born in Prairie Hill, Limestone County, Texas, on January 12, 1895, the son of Reuben Thomas and Martha B. (Reilly) McMillin. The family moved in 1897 to Waco and in 1901 to Forth Worth, where McMillin's father worked for a meat-packing firm. McMillin's education may have begun late; it was interrupted by suspension for misbehavior and by a long bout with typhoid fever. In 1912, having reached his full growth at five feet nine inches and 165 pounds, McMillin entered the ninth grade at North Side High School and joined the football team. Though he played left halfback all four years, he soon replaced the quarterback in calling the signals. Robert L. (Chief) Myers, the coach, had visited Glen S. (Pop) Warner, a professional football coach then at Carlisle Indian School in Pennsylvania, and taught his players Warner's system. In 1915-16, McMillin's senior year, the football team lost the state championship game by one touchdown, while the basketball team, on which he also played, won the state crown./p>
With Myers's assistance, McMillin moved to Kentucky in 1916 in order to play football at Myers's alma mater, Centre College. Lacking sufficient credits to enter, however, he spent a year at Somerset, Kentucky, High School, where the football and basketball teams, with McMillin's assistance, both went to the state championship games. McMillin entered Centre College in 1917 and was shifted to the quarterback position. Myers, who joined the team as coach at the same time, stepped aside after a few games and made Charles B. Moranqv head coach. World War Iqv expunged enough of the 1918 season that players were given an additional year of eligibility. In 1919 McMillin was selected as Walter Camp's first-team All-America quarterback. The next year the governor of Kentucky appointed him a colonel on his staff, the state's highest honor. In August 1921 Ralph D. Paine published a novel for boys, First Down, Kentucky!, whose hero was patterned on McMillin. The 1921 season gave McMillin and Centre College national attention when the college defeated the previously unbeaten (for six years) Harvard University team, with McMillin scoring the winning touchdown.
Preoccupied with sports, McMillin failed to pass any courses during his senior year. After taking courses in later years and receiving credit for military training during World War I, he eventually received his A.B. from Centre in 1937. In 1922 he began his coaching career at Centenary College in Shreveport, Louisiana. Though highly successful, he was not rehired at the end of his three-year contract because the regional accrediting association disapproved of his salary, which was higher than those of the president and faculty and paid not by the college but by a citizens' group.
McMillin coached at Geneva College, Beaver Falls, Pennsylvania, from 1925 to 1927; at Kansas State Agricultural College (now Kansas State University) from 1928 to 1933; and at Indiana University from 1934 to 1948. In 1945 he took IU to its first Big Ten Conference championship. In the spring of 1948 McMillin left Indiana to become coach and general manager of the Detroit Lions. Difficulties with the owners and players, however, resulted in his forced resignation in December 1950. The next year he took his last coaching job, with the Philadelphia Eagles. Shortly after the beginning of the 1951 season he was forced to resign because of illness.
The legends that grew up around him frequently credited football with saving him from juvenile delinquency. His biographers, however, noted that despite his early difficulties in school and his proficiency at pool and craps, he grew up a devout Catholic with a strong moral code. Although he reportedly supported himself in college by gambling, he did not smoke, drink, or swear, and forcefully discouraged such behavior among his players. His feelings on the subject contributed to his problems with the Detroit Lions. For many years McMillin supplemented his coach's salary with speaking engagements, which by 1946 averaged 150 a year. While in college, and perhaps in high school as well, he had worked during the summer with a Chautauqua company partly owned by Chief Myers and his father. Continued exposure to some of the country's most popular speakers may have contributed to his success.
During his career McMillin served as assistant coach of the college team in the Chicago Tribune All-Star game in 1936; he served as head coach in 1938 and 1946, and his college players beat the pro team each time. He was president of the American Football Coaches Association in 1940, and in 1945 was elected Football Man of the Year by the Football Writers Association of America. He was also named Coach of the Year by fellow coaches polled by the New York World Telegram and was enshrined in the Texas Sports Hall of Fameqv and in the college football halls of fame of the Helms Athletic Foundation and the National Football Foundation. He was credited with inventing the five-man backfield and the "cockeyed T."
McMillin was a Democrat and a member of the Knights of Columbus,qv Beta Theta Pi, the Elks, and the Bloomington Country Club. He married Maud Marie Miers on January 2, 1922; they had one daughter. After his first wife died in 1926, McMillin married Kathryn Gillihan, on October 6, 1930. They had three sons and a daughter. McMillin, who suffered from cancer, died of a heart attack on March 3, 1952, in Bloomington.
Source: The Handbook of Texas Online. http://www.tsha.utexas.edu/handbook/online/articles/MM/fmc93.html (27 Sept. 2005).