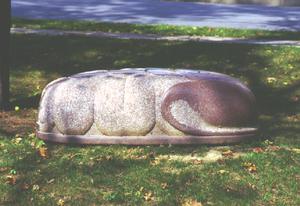 Palace of Memories
Date Dedicated: April 25, 2000
Artist: Tom Chapin
Cost: $25,000
The sculpture features a giant Egyptian scarab beetle carved of African red granite and more than 200 feet of a serpentine, grass-covered mound. One hundred and thirty-five inscriptions suggested by Centre faculty, staff, and students are carved on the underside of the scarab. The work is described by the artist as representing the progression of knowledge through time, and was inspired by a visit to the Serpent Mound in southern Ohio, where prehistoric people carved the landscape into ridges and curves.
The idea for the project came from a group of Centre faculty and staff, who felt a new campus sculpture would be an excellent way to mark the new millennium. The project was funded by donations from college faculty and staff and private donors.
The inscriptions and diagrams on the underside of the work include quotations from Homer, Plato, Milton, Chaucer, and Spinoza; the swirl of the Milky Way; the double helix; wisdom from the Old Testament (in Hebrew) and the New Testament (in Greek); and Mayan pictographs. Only fragments of the words are visible. Chapin describes it as the "ultimate time capsule."
A descendent of novelist Herman Melville, Chapin has exhibited in London, Brussels, and throughout America. His stone carvings are inspired by the art and philosophy of ancient cultures.