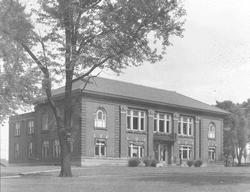 Carnegie Library
In 1905 President Frederick W. Hinitt reported that Andrew Carnegie had offered Centre $30,000 for the construction of a new library building on the condition that the college raise a matching $30,000 to endow the library. It would take until 1912 before the money was raised; the new library would open by the summer of 1914. Carnegie was designed by Grant C. Miller, a Chicago architect, who also designed the Boyle-Humphrey Gymnasium, built at the same time. Miller had planned and supervised the construction of over 50 libraries nationwide.
Carnegie Library replaced Sayre Library, with its capacity of about 22,000 volumes, as the college's library. Carnegie was two-stories, of brick construction with stone trimmings and a tile roof. Initially the first floor contained the president's office, a faculty room, two seminar rooms, and a stack room; the second a large reading room, stack rooms, and the librarian's office. The stack rooms were equipped with metal shelving and had a capacity of about 55,000 volumes. After Doherty Library was completed and occupied in January 1967, Carnegie remained vacant for two years. In 1970 a $228,000 renovation provided modern spaces for the Centre bookstore, post office, and counseling and placement service. It was last renovated in 1993, and now houses the offices of Career Services and International Programs, Evans-Lively Room, and a special occasion dining room.
A persistent story is that Andrew Carnegie gave the gift to the college because his daughter married a Centre alum. However, in 1905 when Carnegie first made the proposal, his daughter was only 8 years old. Margaret Carnegie was born in 1897 and married Roswell Miller, Jr., in 1919, five years after the completion of the library. The mother of Roswell Miller, Jr., was Mary Louise Miller, the daughter of William C. Roberts, president of Centre from 1898 to 1903. Thus Roswell Miller, Jr., was the grandson of Roberts. Mary Louise was the wife of Roswell Miller, Sr., a railroad magnate and friend of Carnegie. The college had first approached Carnegie in 1902 through Henry Watterson, editor of the Louisville Courier-Journal, about contributing to a proposed science building. Although Carnegie declined, in 1905 he did propose a matching gift for a new library. The connection between Carnegie and Centre was not through Carnegie's only daughter, Margaret, but through the Roswell Miller family.